Quick Look at Zillow Home Loans
Company Overview
Low down payments.
Wonderful customer service.
Affiliate of Zillow Group, Inc.
4.8/5 star rating.
Offers VA and FHA loans.
Mortgage, affordability, and refinancing Calculators.
Zillow Home Loans was originally called Mortgage Lenders of America when they were founded in 2000, but they were acquired by Zillow Group, Inc. in 2018.
Zillow's mission is "to give people the power to unlock life's next chapter." Zillow Home Loans contributes to this mission by helping customers feel confident about securing financing for their future home.
---
Try the #1 Mortgage Lender
AmeriSave offers a wider variety of loan programs than Zillow Home Loans. AmeriSave has also earned 4.6 out of 5 stars from over 1,750 verified reviews, so we are confident in recommending their services. Read AmeriSave reviews to see how customers have enjoyed their experience with AmeriSave.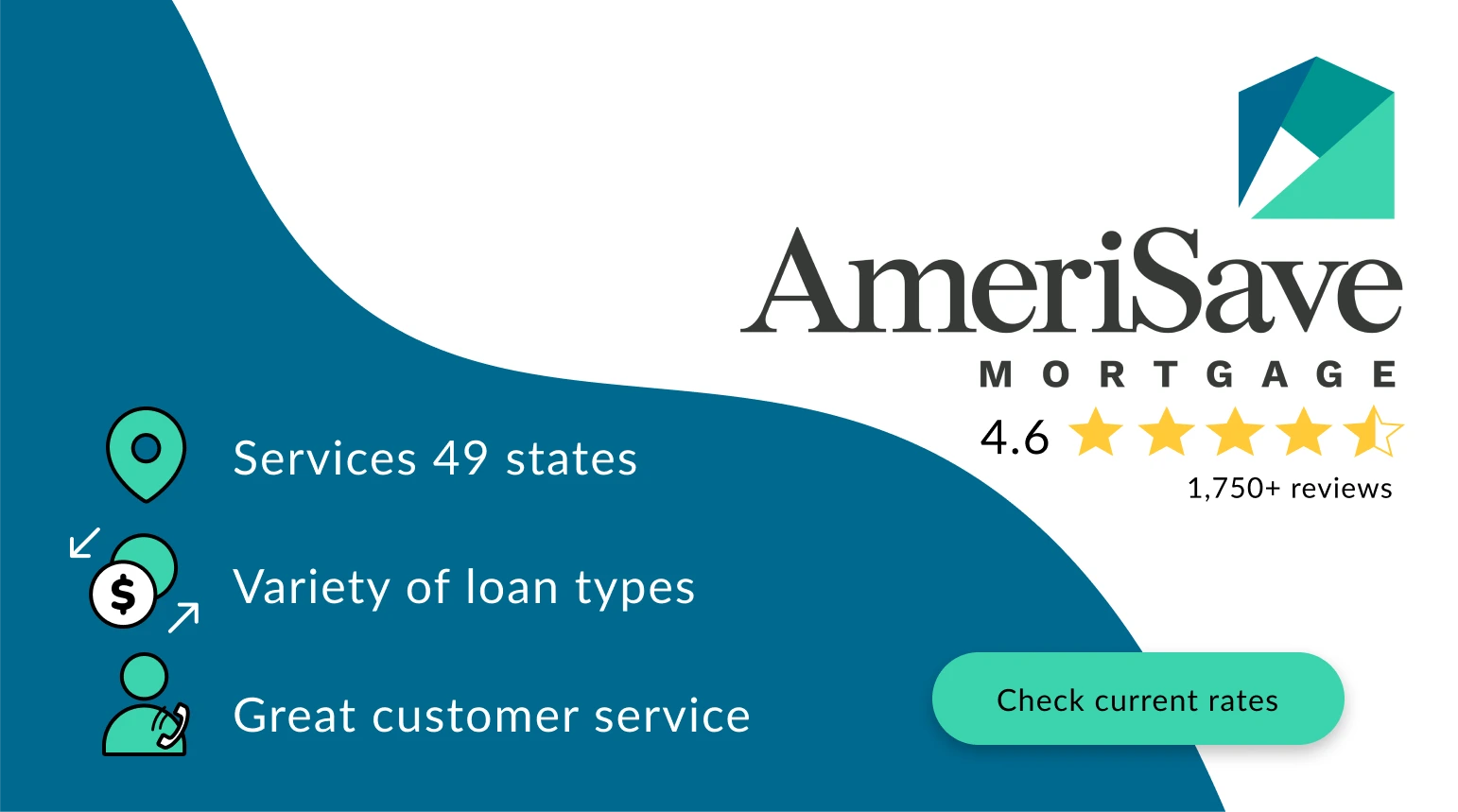 ---
Q&A
What type of mortgages does Zillow Home Loans offer?
Zillow Home Loans offers conventional loans, VA loans, and FHA loans. They also can help refinance your home.
What is Zillow Home Loans' relationship to Zillow?
Zillow Group acquired Zillow Home Loans in 2018.

Zillow is known for being a convenient and helpful real estate tool. Their positive reputation carries over to Zillow Home Loans, as they have many customer reviews that rave about their responsive and knowledgeable loan officers.

What sets Zillow Home Loans apart?
Zillow Home Loans is set apart from other mortgage lenders by their consistently positive customer reviews that reference great loan officers and a stress-free experience.

They also offer three different online calculators to help their customers calculate monthly payments, how much home they can afford, and if refinancing would save them money.
Do Customers Like Zillow Home Loans?
Zillow has over 520 reviews and has earned a 4.4/5 star rating. Of those reviews, 87% are 4- or 5- stars and only 2% are 1-star. Customers praise Zillow for being one of the best real estate tools and for having responsive and helpful realtors.

Consistent with its umbrella company, Zillow Home Loans has earned a 4.8/5 star rating from over 60 reviews from verified customers (May 2022). Zillow Home Loans has fewer reviews due to its more specific nature as an affiliate of Zillow. Of those reviews, 96% are 4- or 5-stars, so the majority of customers have had positive experiences with Zillow Home Loans.

Positive reviews frequently mention:
Knowledgeable and responsive loan officers
Stress-free and smooth process
Competitive interest rates
There are no 1-star reviews and only 4% of reviews were 2- and 3-stars.
Zillow Home Loans Rates & Fees
Zillow Home Loans does not have transparent rates or fees on their website. You can see the rate that you qualify for by answering some questions and entering your information on their website.

To make up for the undisclosed rates, Zillow Home Loans provides three different calculators.
Mortgage Calculator
Their mortgage calculator allows customers to calculate their monthly payment based on a few variables. After entering the price of a home, down payment percentage, year term, and interest rate, it will calculate a monthly payment.

For example, after a 20% down payment on a $300,000 home with a 30-year fixed term and a 5% interest rate, the monthly payment would be $1,667.
Affordability Calculator
Zillow Home Loans' affordability calculator allows customers to estimate how much they can afford to spend on a home. It requires you to enter your annual income, monthly debts, and desired down payment, and then it will calculate the price of the home you can afford.

For example, if you make $90,000 a year, have $300 in debt each month, and would like to make a down payment of $20,000, the calculator says you can afford a $218,325 home.

It also allows customers to adjust the home price to see if it would fit in their budget.
Refinance Calculator
If you are considering refinancing your mortgage, this tool could prove useful to you. It has fields to enter information about your current mortgage and your new desired mortgage.

After entering the necessary information, it will calculate how much money you could save by refinancing and what your new monthly payment would be.
Zillow Home Loans Loan Options
Zillow Home Loans offers conventional loans, VA loans, and FHA loans.

Zillow Home Loans recognizes that each customer's situation is unique, so they advertise that their conventional loans have a variety of options. They offer fixed-rate options and 15-, 20-, or 30-year terms.

Because VA loans are backed by the Department of Veterans Affairs, they are exclusively for veterans, military personnel, and their families.

FHA loans are commonly known as being for first-time homebuyers, since the credit requirements are more flexible.

Zillow Home Loans also refinances homes, and customers have said in reviews that they make the refinancing process as quick and stress-free as possible.
Zillow Home Loans Loan Requirements
In order to receive a conventional loan, VA loan, or FHA loan, customers must meet certain requirements.
Conventional Loan Requirements
To qualify for a conventional loan, Zillow Home Loans requires customers to make a minimum down payment of 3%. However, if customers make a down payment lower than 20%, they must have private mortgage insurance (PMI).

While Zillow Home Loans doesn't explicitly give a minimum credit score requirement for conventional loans, they have mentioned that the industry usually requires a credit score of at least 680.
VA Loan Requirements
Besides the requirement to be a veteran, military personnel, or a family of one, VA loans have no other requirements.

No down payment or PMI is required.
FHA Loan Requirements
FHA loans from Zillow Home Loans require a minimum down payment of 3.5%. Mortgage insurance is also required to receive an FHA loan.

Because the parameters of FHA loans are set by the Department of Housing and Urban Development, customers must meet the loan limits set by them.

Zillow Home Loans doesn't explicitly give a required credit score to receive a FHA loan, but they do explain that this loan option is more flexible with the credit requirement. The industry generally will accept a minimum credit score of 580. If a customer's credit score is lower than that, they may still qualify but might need to put down a larger down payment.
Zillow Home Loans Customer Service
The most consistent praise that Zillow Home Loans receives in reviews is for their loan officers. Customers who have had stressful mortgage or refinancing experiences in the past are extremely satisfied with how Zillow's loan officers handled their situations.

Loan officers are reported as being patient and dedicated to cultivating a stress-free experience.
Our Recommendation
If you are looking to refinance your home or to purchase your home with the help of a conventional, VA, or FHA loan, we highly recommend Zillow Home Loans. Their online calculators can be extremely helpful in calculating your desired monthly payment or how much home you can afford.

But most importantly, customers have loved working with their loan officers. Even if you have had negative experiences with mortgage lenders in the past, customer reviews report that Zillow Home Loans cultivates a stress-free experience.