Quick Look at AmeriSave Mortgage
Company Overview
Licensed in 49 states.
Excellent rates.
4.6/5 star customer rating.
Quick closing time.
Many mortgage types.
Over 664,000 borrowers financed.
AmeriSave Mortgage is highly rated by its customers for the fast and easy mortgage acquisition process and excellent customer service.
AmeriSave was founded in 2002, and after 20 years in the industry, they have funded over $115 billion in home loans and provided financing to over 664,000 borrowers. The highly ranked mortgage lender is licensed in 49 states and concentrates on providing low rates through advanced technology and lower overhead costs.
AmeriSave believes that a key component of a positive customer experience is to provide transparent pricing and an easy online application; that's why AmeriSave relies on its fintech to provide a seamless mortgage experience for every customer.
Q&A
What credit score do I need for an AmeriSave loan?
AmeriSave requires potential customers to have a credit score of 620 to qualify for their conventional loans.

While FHA and VA loans are more flexible, AmeriSave requires customers to have a credit score of 600 for consideration.

Does AmeriSave have good customer service?
AmeriSave has received 4.6 out of 5 stars from over 1,750 verified customer reviews.

91% are 4- or 5-star reviews, and many of them mention positive experiences with customer service.

What types of loans does AmeriSave offer?
AmeriSave has loan programs for the following types of mortgages: fixed rate loans, ARM, cash out refinance, HELOC, FHA loans, VA loans, and USDA loans.
Do Customers Like AmeriSave?
On their website, AmeriSave claims that 94% of their customers say they would recommend the lender to friends and family.
This claim is supported by Best Company customer reviews, having received an outstanding 4.6 out of 5 star rating from its customers with over 1,750 total reviews.
On our trusted customer reviews platform, 91% of all of the company's reviews are 4- or 5-star reviews.
Many satisfied customers praise AmeriSave for:
Frequent communication
Knowledgeable staff
Quick & smooth process
Thorough answers to questions
Great rates
One customer who was happy with the service recounted:
"Everything was super smooth. Everybody was really good at email communication and letting me know exactly what I needed, what I needed to do, kept me up to date on everything. My loan originator was awesome and always really honest." - Jennifer
Of the AmeriSave feedback, 6% were 1-star reviews. Contrary to the positive reviews, some unhappy customers have complained about poor communication, rude customer support, and a long and confusing process.
AmeriSave Customer Service
The customer service at AmeriSave is excellent, as is evident by the positive customer reviews the company has received. There is further evidence of a high quality customer service due to the fact that AmeriSave representatives are highly active in responding to and resolving customer concerns.
In regards to customer service, one homeowner said:
"They were always very responsive to any of my questions and they were real good about following up and I think that's why everything went so quickly, because of the customer service. It was quick and easy. The agent was tremendous, really helpful and a lot quicker than I had imagined." - Cynthia
While some customers have complained about AmeriSave's customer service, the company is extremely consistent in reaching out to and resolving customer complaints.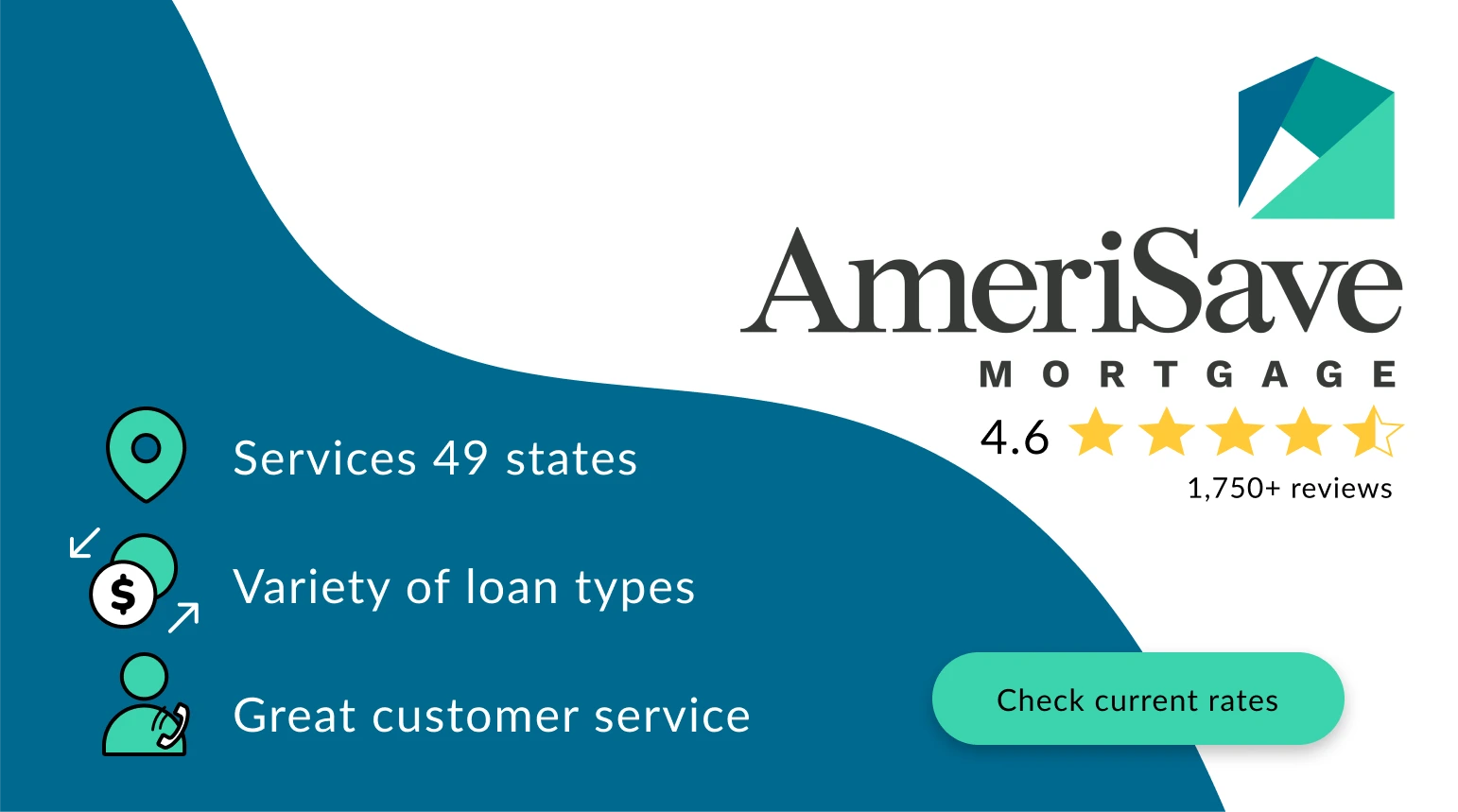 AmeriSave Rates & Fees
Because the total cost of a mortgage depends on the down payment, total origination fees, and the term of the loan (duration of the loan), the cost varies wildly from customer to customer.
AmeriSave is not transparent about their origination fees.
As for mortgage rates, AmeriSave ranks pretty highly in comparison to other companies, providing lower than average mortgage rates.
Because rates are constantly changing, AmeriSave is also not transparent about current rates on their website. You must fill out a form to see the rate you qualify for. AmeriSave's website also features a mortgage calculator so potential customers can see what their payment would be with today's interest rates.
However, AmeriSave does provide a few examples in fine print. As of November 2022, the following are examples of interest rates based on a mortgage of $300,000 provided on AmeriSave's website:
| Term | Interest Rate | Regular Payment |
| --- | --- | --- |
| 30 Year Fixed | 5.875% | $1,774.61 |
| 15 Year Fixed | 5.125% | $2,391.96 |
| 10 Year Fixed | 4.990% | $3,180.50 |
See what rate you qualify for today.
AmeriSave Types of Mortgages
AmeriSave offers several different types of mortgages, and the loan requirements will vary depending on which loan you want.
Conventional loans, including fixed rate and ARM loans, from AmeriSave require a 620 minimum credit score, a recent full exterior and interior appraisal if needed (some conventional loans eligible for appraisal waiver), and cannot be used to purchase a mobile home or manufactured home. Borrowers must also maintain a job throughout the loan application and payment process without making any additional large purchases, like a new car or real estate investment.
Fixed Rate Loan
A fixed rate mortgage is what it sounds like- the rate will stay fixed throughout the duration of the loan. If you are planning on owning your home for over 10 years, this is a smart option for you.
AmeriSave has 10, 15, 20, 25, and 30 year fixed mortgage rates.
Adjustable-Rate Mortgage (ARM)
ARM Loans begin with a fixed rate for a certain number of years, and then the interest rate changes once a year. This is a great option for those planning on owning a home for less than 10 years.
AmeriSave offers 5/1, 7/1, and 10/1 ARM loans, meaning the rate is fixed for the first 5, 7, or 10 years, and then the interest rate starts to adjust yearly afterwards.
If interest rates decline, your interest rate will drop at the yearly adjustment, but if interest rates are rising in the market, yours could increase. Because of these market conditions, AmeriSave has implemented rate caps.
With each adjustment, the rate cannot increase or decrease by more than 2%
Over the lifetime of the loan, the rate cannot increase by more than 5%
Refinance
Cash Out Refinancing
If your home equity has increased since your first mortgage, a cash out refinance could be beneficial to you. AmeriSave can give you a new mortgage, and you can borrow cash from the difference between the remaining balance of your mortgage and your home's value.
You can use the extra cash to do whatever you want.
Rate & Term Refinancing
If you aren't interested in borrowing cash from your home equity, but your home value has increased since your first mortgage, you can refinance to lower your interest rate or change the term length.
Home Equity Line of Credit (HELOC)
A HELOC is a second mortgage that allows homeowners to borrow money from their home equity if the value of their home is greater than their current mortgage. It must be repaid over a period of time, but interest rates are usually lower than borrowing money through other lines of credit.
FHA Loan
The Federal Housing Authority (FHA) provides loans to those who may not have perfect credit scores or cannot afford a normal down payment.
Potential FHA loan borrowers should have a minimum credit score of 600 for consideration and a credit score above 640 for loans exceeding $700,000.
Borrowers must also meet the 3.5% minimum down payment, receive an appraisal by a HUD-approved appraiser if needed (no appraisal necessary if streamlined), obtain mortgage insurance, and must purchase the home as a primary residence.
VA Loan
AmeriSave is proud to offer VA loans through the U.S. Department of Veteran Affairs. Only veterans or spouses of veterans qualify.
No down payment or mortgage insurance is needed.
While credit requirements are more flexible for VA loans, a minimum credit score of 600 (or 640 for loans exceeding $700,000) is still required for eligibility.
USDA Loan
AmeriSave offers USDA loans through the U.S. Department of Agriculture for those who live in predefined rural areas.
No down payment is required and mortgage insurance for USDA loans is less expensive. USDA loans do not require a complete credit review, but your credit score will influence the interest rate you receive.
---
Our Recommendation
We highly recommend AmeriSave to any potential customers looking for confirmation that this is a good company. Though we believe that all customers should compare each of the top lenders before making a decision, AmeriSave has earned the #1 position on TopMortgageLenders.com and we stand by our high opinion of the mortgage lender.
The 4.6 star rating from previous customers says it all — AmeriSave loan officers and customer service professionals put their entire focus into providing an effective and hassle free mortgage process.
We also recommend AmeriSave for the variety of loans they offer and their low rates.